The Australia Cup is a national knockout competition that includes teams from Association and state level, National Premier Leagues, right through to the A-League.
The Australia Cup is run by Football Federation Australia in conjunction with the State and Territory Member Federations in Queensland, NSW, Northern NSW, Victoria, ACT, Tasmania, South Australia and Western Australia.
Each and every cup tie must be decided on the day, with extra time and penalties to decide results of matches drawn after 90 minutes.
Over 600 clubs play in the feeder competitions run by the states and territories. The A-League clubs join the competition in the Round of 32, alongside 22 clubs who have progressed from the ranks of the semi-professional and amateur tiers.
For full information on the Australia Cup, head to the official website: theffacup.com.au

Schedule:
Round 2: 12/03/2022-13/03/2022
Round 3: 22/03/2022-24/03/2022
Round 4: 12/04/2022-14/04/2022
Round 5: 26/04/2022-28/04/2022
Round 6: 10/05/2022-12/05/2022
Round 7: 24/05/2022-26/05/2022

Please Note: For each round, all matches will be scheduled on one of the scheduled match dates listed , based on venue availability and the Team's regular competition fixtures. For matches to be scheduled on a different day (i.e. a Saturday or Sunday), both Team's would need to agree to this change, and it would also need to be approved by Football NSW. Matches must be played either on the scheduled match dates for each Round or prior (if approval provided), unless there are exceptional circumstances (i.e. weather) and Football NSW approves this scheduling.

Match Sequence: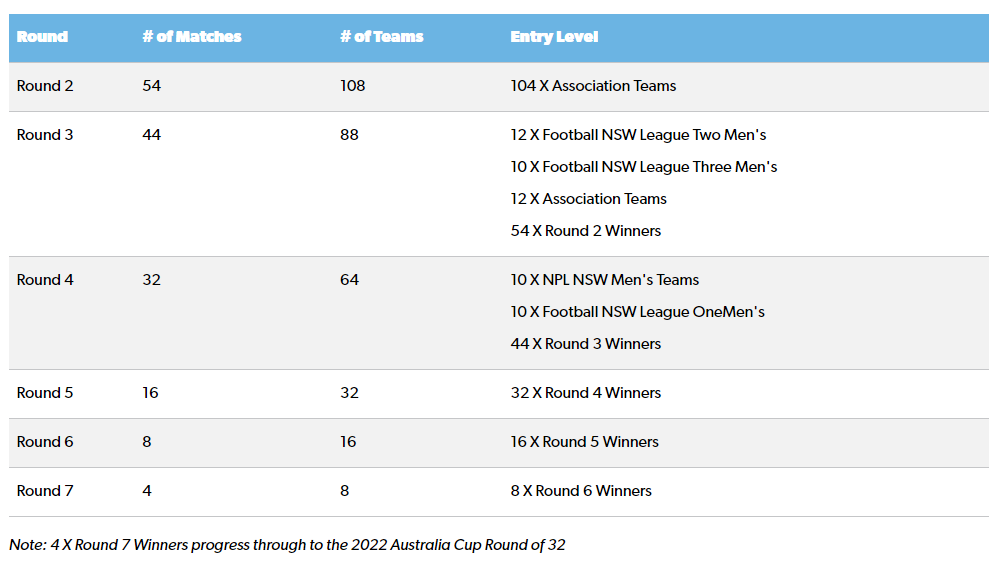 2022 Results:
Round 2 Australia Cup Result: WDFC v St Ives FC on Wednesday 9 March 2022
Willoughby Dalleys FC 10 - St Ives FC 1
Goal Scorers:
Sam Young 5
Alex Di Ciano 3
Matt Casali
Adrian Bacic

Round 3 Australia Cup Result: WDFC v Kogarah Waratahs FC on Wednesday 23 March 2022
Willoughby Dalleys FC 0 - Kogarah Waratahs FC 0 (Full-time)
Willoughby Dalleys wins on penalties 4-3.

Round 4 Australia Cup Result: WDFC v Prospect United on Wednesday 20 April 2022
Willoughby Dalleys FC 1 - Prospect United 0
Goal Scorers:
Chad Cowley

Round 5 Australia Cup Fixture: WDFC v Wollongong Olympic FC on Tuesday 24 May 2022
Willoughby Dalleys FC 5 - Wollongong Olympis 1
Goal Scorers:
James Morrison
Andrew Casali
Jeremy Vaz
Matt Casali
Ollie Louw

Round 6 Australia Cup Fixture: WDFC v Northern Tigers FC on Wednesday 1st June 2022
Willoughby Dalleys FC 1 - Northern Tigers FC 8
Goal Scorer: